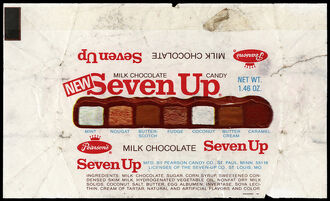 The Seven Up Bar was a candy bar comprising seven different chocolate "pillows", each filled with a different flavor. Flavors changed with the availability and popularity of ingredients, which included, among others, brazil nut, buttercream, butterscotch, caramel, cherry, coconut, fudge, mint, nougat and orange.[5] The high manufacturing costs and trademark issues with a soda manufacturer (The American Bottling Company, today Cadbury Schweppes), caused the bar to be retired in 1979.
Ad blocker interference detected!
Wikia is a free-to-use site that makes money from advertising. We have a modified experience for viewers using ad blockers

Wikia is not accessible if you've made further modifications. Remove the custom ad blocker rule(s) and the page will load as expected.