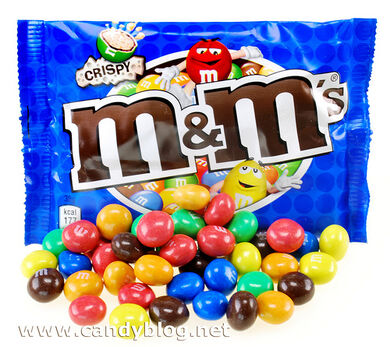 M&M's (named after the surnames of
Forrest Mars, Sr.
, and Bruce Murrie of
Hershey's
[2]
) are "colorful button-shaped candies"
[1]
produced by
Mars, Incorporated
. The
candy shells
, each of which has the letter "m" printed in
lower case
on one side, surround a variety of fillings, including
milk chocolate
,
dark chocolate
,
crisped rice
,
mint chocolate
,
peanuts
,
almonds
,
orange chocolate
,
coconut
,
pretzel
,
wild cherry
,
cinnamon
,
raspberry
, and
peanut butter
. M&M's originated in the United States in 1941, and are now sold in as many as 100 countries.
[1]
They are produced in different colors, some of which have
changed over the years
.
In 1999, Crispy M&M's were released. They were slightly larger than the milk chocolate variety and featured a crispy wafer center. They were discontinued in the United States in 2005. They are still available in Europe, Australia, and Southeast Asia
Ad blocker interference detected!
Wikia is a free-to-use site that makes money from advertising. We have a modified experience for viewers using ad blockers

Wikia is not accessible if you've made further modifications. Remove the custom ad blocker rule(s) and the page will load as expected.